Cover Design: Samantha Young
Stock photos provided by Deposit Photos: © Konradbak & © StockCube
Release Date: March 30th 2017
in ebook on most e-retailer platforms
(incl. Amazon, iBooks, Kobo, BN and Google Play)
Book will go live on all platforms day of release.
SYNOPSIS
Joss and Braden Carmichael are blissfully married living in their townhouse on Dublin Street with their two beautiful children. It's a life Joss never expected to have, and one she's grateful for every day.
But… what if she never met Braden and Ellie Carmichael on that fateful day when she
was only twenty-two years old?
When Joss is asked to write a story about how her life might have turned out if a pivotal
moment in it never happened, she thinks of the day she met both Braden and Ellie
Carmichael. If she had never met them where might she have ended up? Joss believes no
matter where life may have taken her it would have inevitably led her to Braden. But what if she was thirty instead of twenty-two when they met? How would she have felt about risking her heart then?
And even if she was older and wiser and ready to fall madly in love, what if too much had happened to Braden to make him the man that would risk his heart to save hers?
Will time be their enemy… or is it possible that two souls are meant for one another in
Stars Over Castle Hill
is an alternate reality novella of a romance that captured the
hearts of readers all over the world.
Joss and Braden are back with a story that is
just as emotional, passionate and sexy as their first!

Haven't read Joss & Braden's story from the beginning? On Dublin Street, the #1 international bestseller, #ONECLICK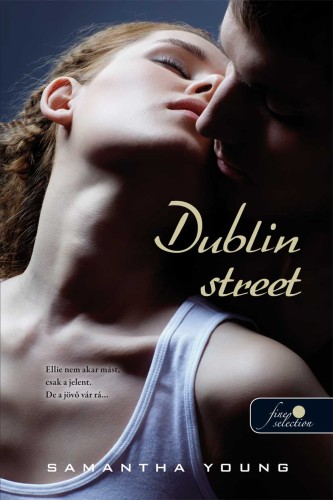 ABOUT THE AUTHOR
Samantha Young has sold over a million copies of her novels. She is the
New York Times
,
USA Today
and
Wall Street Journal
bestselling author of adult contemporary romances, including the
On Dublin Street
series and
Hero
, as well as the New Adult duology
Into the Deep
and
Out of the Shallows
.
The One Real Thing
, the first book in her new
Hart's Boardwalk
series, will be published by Berkley in September 2016. Before turning to contemporary fiction, she wrote several young adult paranormal and fantasy series, including the amazon bestselling
Tale of Lunarmorte
trilogy.
Samantha has been nominated for the Goodreads Choice Award 2012 for Best Author and Best Romance for On Dublin Street, Best Romance 2014 for Before Jamaica Lane, and Best Romance 2015 for Hero. On Dublin Street a #1 bestseller in Germany was the Bronze Award Winner in the LeserPreis German Readers Choice Awards for Best Romance 2013, Before Jamaica Lane the Gold Medal Winner for the LeserPreis German Readers Choice Awards for Best Romance 2014 and Echoes of Scotland Street the Bronze Medal Winner for the LeserPreis German Readers Choice Awards for Best Romance 2015.
Samantha is currently published in 30 countries and is an international bestselling author.
Website
|
Facebook
|
Twitter
|
Goodreads
|
Instagram
|
YouTube
Books Make You Happy Blog