Karina Halle Instargam oldalán leleplezte a valamikor a közeljövőben magyarul megjelenő The Artists Trilogy borítókat.
Bűnben született -
Sins & Needles
(The Artists Trilogy #1)
Ellie Watt megszokta az újrakedést. A szélhámos pár lányát, Elliet gyermekkorában rendszeresen használták csaliként, ahogy az utolsó nagy átverésükben is. Most, hogy már jóval idősebb és bölcsebb készen áll arra, hogy szélhámos életén túllépjen. De a kaliforniai Palm Valley-i sivatagi városba visszatérve nem tud ellenállni a kísértésnek - célpontja Camden McQueen.
Az egykori középiskolás különc, Camden érettebb és rosszfiúsabb, mint akkoriban, mostanra már egy tehetséges tetováló művész is, saját virágzó üzletével. Ellie arra számít, hogy Camden még mindig szerelmes belé, de arra nem számít, hogy a könnyedén felébresztett szerelem idővel megszállottsággá válhat. Amikor Camden felfedezi Ellie tervét, hogy kijátsza őt, egy olyan üzletet ajánl neki, amit a lány nem mer elutasítani, de a szabadságának ára van,ami Elliet és Camdent egyaránt veszélyes utakra viszi.
- SPOILER - HA ELOLVASOD A KÖVETKEZŐ KÖNYV FÜLSZÖVEGÉT -
VIGYÁZAT, KORÁBBI CSELEKMÉNYLEÍRÁST TARTALMAZ
Veszélyes trükkök -
Shooting Scars
(The Artists Trilogy #2)
Veszélyes szerelem. . .
Amikor Ellie Watt felajánlotta magát, bűnöző ex-szerelmének, Javiernek, hogy megmentse Camden életét, meg sem fordult a fejében, hogy Javiernek végig ez volt a terve. Csapdába esve, gyilkosokkal körülvéve Elliet arra kényszerítik, hogy egy veszélyes, szörnyű bűncselekmény elkövessen el, ha nem teszi, Javier megöli Camdent. Most az ex-szélhámos Ellienek módot kell találnia, hogy egy lépéssel előrébb legyen a játékban
. . . mielőtt elpusztítaná önmagát és az egyetlen embert, akit igazán szeretett.
Camden McQueen nem tudja elfelejteni Ellie Wattot. Bosszúra szomjazva és a hatóságok által üldözve - egy olyan bűncselekményért, amelyet nem követett el- , a tehetséges tetováló művész olyan dolgokat tesz meg Ellie megmentéséért, amelyeket soha nem gondolt volna magáról, hogy képes elkövetni. Ahogy Camden a szerelem és a megtorlás között egyensúlyozik, megfogadja, hogy mindent megtesz annak érdekében, hogy visszakapja a lányt. De, ha Camden felszabadítja sötét oldalát, vajon Ellie még mindig szeretni fogja őt?
- SPOILER - HA ELOLVASOD A KÖVETKEZŐ KÖNYV FÜLSZÖVEGÉT -
VIGYÁZAT, KORÁBBI CSELEKMÉNYLEÍRÁST TARTALMAZ
Bármi áron - Bold Tricks (The Artists Trilogy #3)
Minél gyorsabban élnek, annál nagyobbat buknak . . .
Ellie Wattot szélhámosok nevelték, sok őrült gyermekkori emléke van, de egyik sem olyan félelmetes, mint a megháborodott bűnöző, Travis Rainesé. Ma már Ellie már felnött nő, aki a bosszúért él, Travis pedig egy felfutott drogbáró, aki örömét leli a gyilkolásban. A szadista gazember elrabolta egyik jó barátját, Gust és az ő anyját is, akiket most fogva tart, fegyveresen jól őrzött búvóhelyén. Ellienek egyetlen egy lehetősége van a kiszabadításukra, felhasználva ehhez a két legveszélyesebb férfit, akik bármit megtennének érte ...
Az egyik férfi a Camden McQueen, a tehetséges tetováló művész, aki véglegesen megjelölte Ellie szívét. A másik Javier Bernal, az ő tüzes ex-szeretője, aki többeknek a fejét vette már.
Mexikóváros bűnöző utcáitól egészen Honduras ragadozó dzsungeléig, ez a valószínűtlen trió szövetséget köt a leghalálosabb játékban, melynek végén az ellenség az ellenséggel áll szemben, és szerető a szerető ellen. Ellienek kell kiválasztania a megfelelő embert, akiben megbízik. . . vagy meghal.
A következő előzmény novella várható megjelenéséről nincs hír, de az
On Every Street (The Artists Trilogy 0.5) 6 évvel korábban játszódik, mint a
Bűnben született -
Sins & Needles.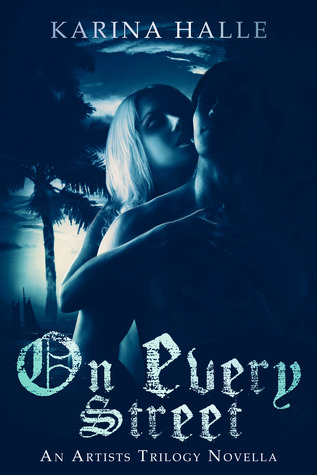 Amikor a fiatal szélhámos Ellie Watt úgy dönt, hogy Eden Whitenak adja ki magát és a drog báró után megy, aki tönkretette a gyermekkorát, nem számít arra, hogy beleesik az egyik emberébe. De Javier Bernal nem egy átlagos férfi. Valóban veszélyes és túlságosan csábító. Eden szenvedélyesen beleszeret Javierbe, abba a férfiban ...
Karina Halle is a former travel writer and music journalist and The New York Times, Wall Street Journal and USA Today Bestselling author of Where Sea Meets Sky, Racing the Sun, The Pact, Love, in English, The Artists Trilogy, Dirty Angels and over 20 other wild and romantic reads. She lives on an island off the coast of British Columbia with her husband and her rescue pup, where she drinks a lot of wine, hikes a lot of trails and devours a lot of books.
Halle is represented by the Waxman Leavell Agency and is both self-published and published by Atria Books/Simon & Schuster and Hachette in North America and in the UK.
Books Make You Happy Blog